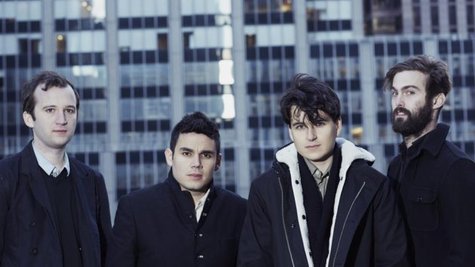 Vampire Weekend will be the next artist to participate in the American Express-sponsored concert series, Unstaged . The April 28 performance will be live-streamed from Roseland Ballroom in New York City at 9 p.m. ET/6 p.m. PT at YouTube.com/AmericanExpressMusic .
If you want to check it out, you can join the audience online, or via YouTube and VEVO apps for iPhone, iPod touch, iPad and Android. The show takes place about two weeks before Vampire Weekend's new album, Modern Vampires of the City, arrives in stores on May 14.
Directing the event will be Boardwalk Empire actor Steve Buscemi , who palled around with the band during New York City's annual Easter Parade on Sunday. "We're thrilled to be working with a wonderful actor, great director, and NYC legend," said frontman Ezra Koenig in a statement. "We couldn't have picked a better guy to man the cameras."
Buscemi adds, "I'm really excited to collaborate with Vampire Weekend to bring their vision to life for this live streaming event."
Copyright 2013 ABC News Radio