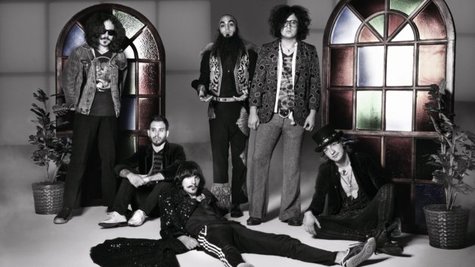 For weeks now, Foxy Shazam 's single "I Like It" has been a staple on the Active and Alternative Rock Charts, currently residing at #5 and #18, respectively. In an interview with ABC News Radio, frontman Eric Sean Nally says that the song -- which speaks of the band's love of well-endowed black women -- wasn't necessarily inspired by any single female.
"There was no one in particular, it was just kind of a general consensus… of one very specific aspect of love life," reveals Nally.
Even though the band has been around for years, Nally says he isn't upset that fans haven't caught on to their music until "I Like It" was released. "We've been a band for around eight years now so you gotta be patient," he says. "We're in it for the long haul you know, we're patient artists. We want to build it right, we want to build it slow and easy and right. So I don't really have a problem with it taking some time. I think that's important."
In addition, trumpet player Alex Nauth noted that the band wanted to create their album, The Church of Rock and Roll , because they were upset with the "state of modern music and popular music" and wanted to get back to the roots of what rock and roll is all about.
"We needed something to believe in musically that we felt like we weren't getting out of the state of where everything's at right now," explains Nauth. "So when you can't find it, then you need it and you create it and that's what we did and so that was the idea behind this record is creating a monument to an idea of something that we feel like should be around right now."
The band is currently trekking across North America on their Tabernacle Tour.
Copyright 2012 ABC News Radio