« back to Movies
Inside Llewyn Davis
Release Date: None
Genres: Drama
Cast: Oscar Isaac, Carey Mulligan, John Goodman, Garrett Hedlund, Justin Timberlake, F. Murray Abraham, Adam Driver, Max Casella, Ricardo Cordero, Ethan Phillips
Directors: Ethan Coen, Joel Coen
Official Site: http://www.insidellewyndavis.com
Distributor: CBS Films
The story follows a week in the life of a young folk singer as he navigates the Greenwich Village folk scene of 1961. Llewyn Davis is at a crossroads. Guitar in tow, huddled against the unforgiving New York winter, he is struggling to make it as a musician against seemingly insurmountable obstacles - some of them of his own making. Living at the mercy of both friends and strangers, scaring up what work he can find, Llewyn's misadventures take him from the basket houses of the village to an empty Chicago club - on an odyssey to audition for music mogul Bud Grossman - and back again.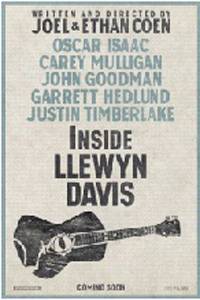 Show Times / Buy Tickets
There are no current showings for Inside Llewyn Davis in this area.