« back to Movies
Riddick: The IMAX Experience
Release Date: None
Genres: Action/Adventure, SciFi/Fantasy
Cast: Vin Diesel, Karl Urban, Dave Bautista, Katee Sackhoff, Nolan Gerard Funk, Bokeem Woodbine, Jordi Mollà, Raoul Trujillo, Antoinette Kalaj
Directors: David Twohy
Official Site: http://www.riddickmovie.com/
Distributor: Universal Classics
Having been betrayed and left for dead on a sun-scorched planet, Riddick must fight for his survival against the deadly alien predators that exist in this barren land. After activating an emergency beacon Riddick soon finds himself battling teams of mercenaries from around the galaxy who are determined to bring him home as their bounty.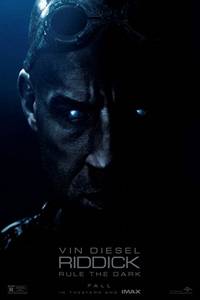 Show Times / Buy Tickets
There are no current showings for Riddick: The IMAX Experience in this area.