« back to Movies
How to Train Your Dragon 2 3D
Release Date: June 13, 2014
Genres: Animation
Cast: Jay Baruchel, Gerard Butler, Kit Harington, Cate Blanchett, Djimon Honsou, Craig Ferguson, America Ferrera, Jonah Hill, Christopher Mintz-Plasse, T.J. Miller
Directors: Dean DeBlois
Official Site: http://www.howtotrainyourdragon.com
Distributor: 20th Century Fox
Set in the mythical world of burly Vikings and wild dragons, and based on the book by Cressida Cowell, the action comedy tells the story of Hiccup, a Viking teenager who doesn't exactly fit in with his tribe's longstanding tradition of heroic dragon slayers. Hiccup's world is turned upside down when he encounters a dragon that challenges he and his fellow Vikings to see the world from an entirely different point of view.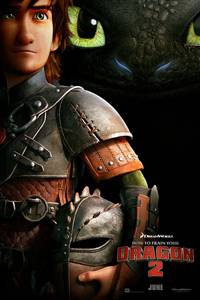 Show Times / Buy Tickets
There are no current showings for How to Train Your Dragon 2 3D in this area.