« back to Movies
Lawrence of Arabia
Release Date: None
Genres: Action/Adventure, Drama, War
Cast: Peter O' Toole, Alec Guinness, Anthony Quinn, Jack Hawkins, Omar Sharif, Jose Ferrer, Anthony Quayle, Claude Rains, Arthur Kennedy, Donald Wolfit
Directors: David Lean
Distributor: Columbia Pictures
Sweeping epic about the real life adventures of T.E. Lawrence, a British major who unified Arab tribes and led them in the fight for independence from the Ottoman Turks in the 1920s.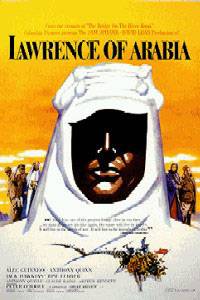 Show Times / Buy Tickets
There are no current showings for Lawrence of Arabia in this area.