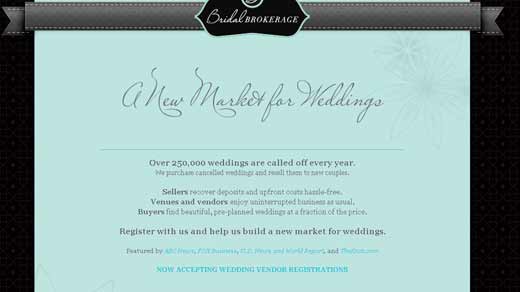 An online business buys and sells canceled weddings.
Bridal Brokerage launched in the summer of 2012… the founder thought of the idea after talking to a friend who was part of a canceled destination wedding.
The Chief Marketing Officer explains: "When somebody goes and cancels a wedding, they've usually spent a whole lot of money on deposits and pre-payments and before Bridal Brokerage launched, they were just losing all of that money".
The company "found that new couples might be willing to take over those deposits and then pick up the balance of the contract and purchase the rights to these beautiful pre-planned weddings at a fraction of the cost."

The business has a database of more than 2,500 interested buyers looking to purchase a wedding for a bargain.
Interested?
-AJ